musik / music
Solo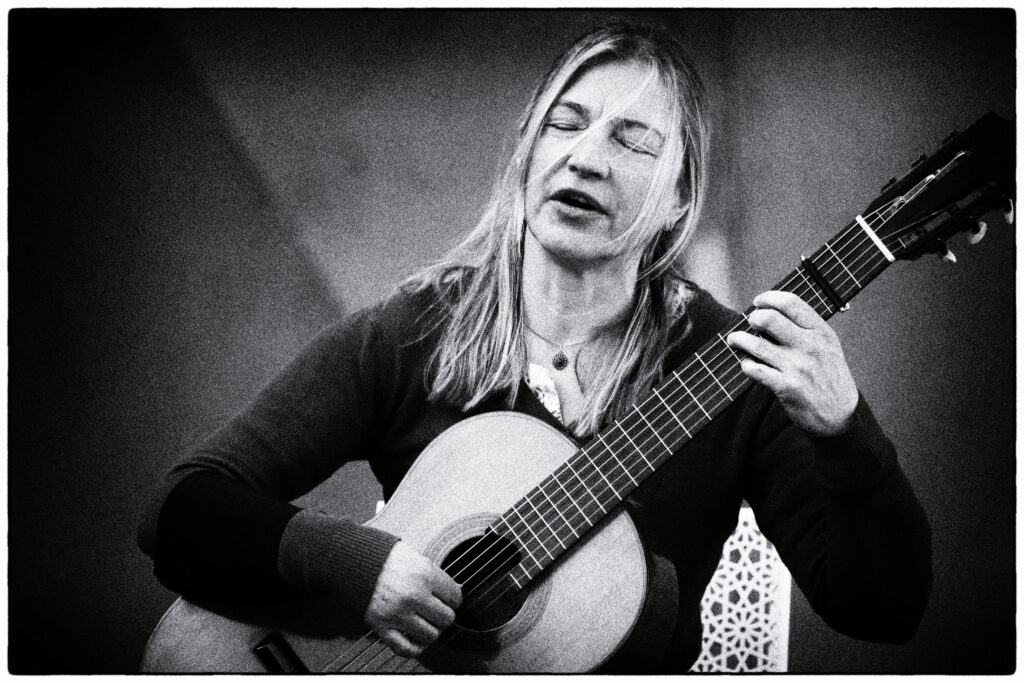 celtic classical guitar
In ihren Arrangements von traditionellen Tanzmelodien und Songs hat Hilke Billerbeck aus einer Mischung traditioneller und klassischer Spielweisen eine persönliche Tonsprache entwickelt.
Neben der Gitarre begleitet die vielseitige Musikerin die Tunes und Lieder auch mit der irischen Rahmentrommel Bodhrán. Sie hat mittlerweile zwei Solo- CD´s veröffentlicht.
Blending her classical backround with traditional music Hilke has developed her own style for Celtic music arrangements. In addition to the guitar, she also accompanies tunes and songs with the bodhrán. Hilke has released two solo CDs.
Gitarrenmusik für festliche Anlässe
Zur musikalischen Gestaltung und Begleitung bei Festen, Hochzeiten und anderen Veranstaltungen bietet Hilke Billerbeck ein unterhaltsames Repertoire aus klassischer, südamerikanischer und populärer Gitarrenmusik an.
Hilke offers an engaging repertoire of Classical Musik, South American, and popular guitar music for celebrations, weddings, funerals, and other events.
---
Duo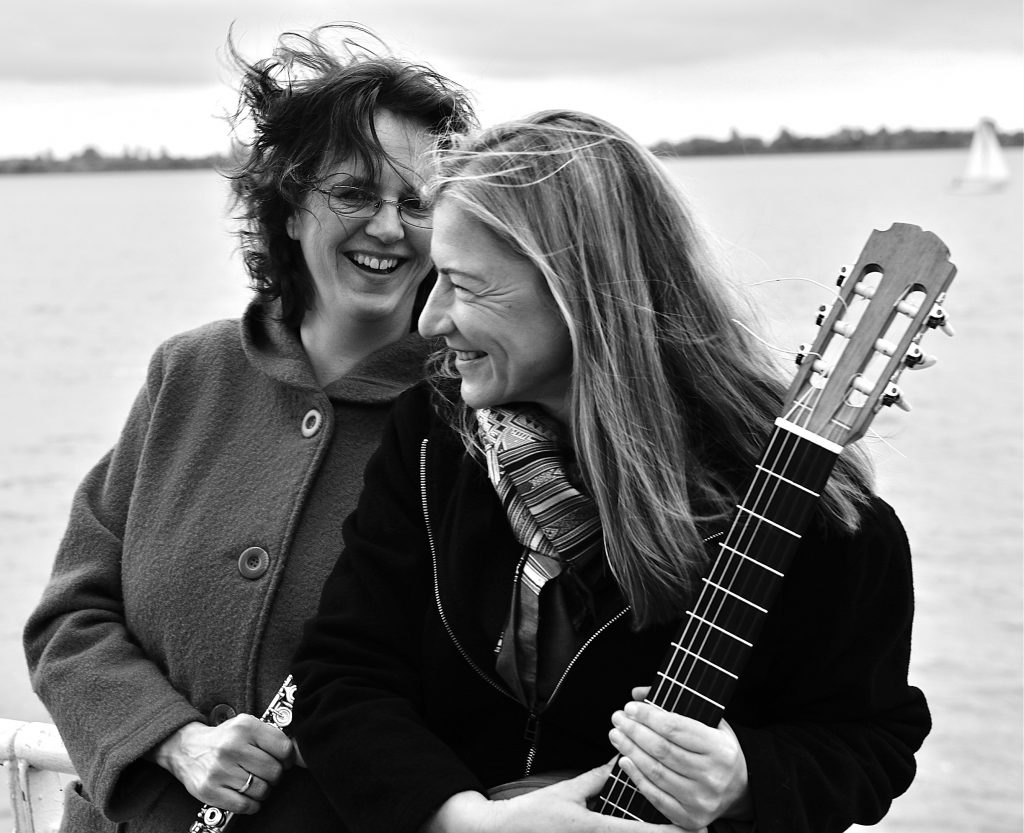 "musica interactiva"
Eine langjährige Zusammenarbeit besteht mit der Hamburger Flötistin Julia Wetzel-Kagelmann. Konzertprogramme für Kinder, das Crossover-Projekt "celtic classical music", aber auch traditionelle klassische Konzerte gehören zu ihrer gemeinsamen Biographie.
The flautist Julia Wetzel-Kagelmann and Hilke are working together for many years. They have developed concert programs for children, the crossover project "celtic classical music", and also perform classical concerts.
celtic classical music
Durch ein kreatives Miteinander entstehen überraschende Duos, schwebend zwischen den folkloristischen und klassischen Welten.
A creative teamwork of surprising duos between Celtic and Classical Music.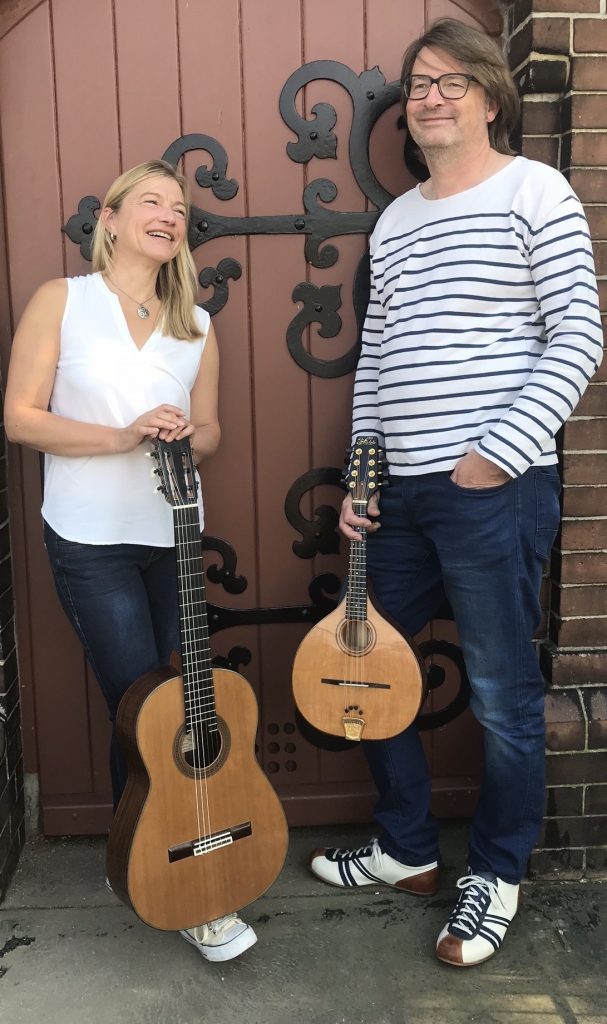 True to Scale
Die zwei session- und bühnenerprobten Musiker Hilke Billerbeck und Axel Bogdan kreieren mit Gitarren, verschiedenen Saiteninstrumenten, Bodhrán und Gesang einen vielseitigen und individuellen Sound, der den traditionellen – meist irisch-schottischen – Wurzeln treu bleibt.
Hilke and Axel are experienced musicians both at sessions and on stage. Their guitars, mandolins, bodhran and voices form a unique sound that stays true to its Celtic / British roots.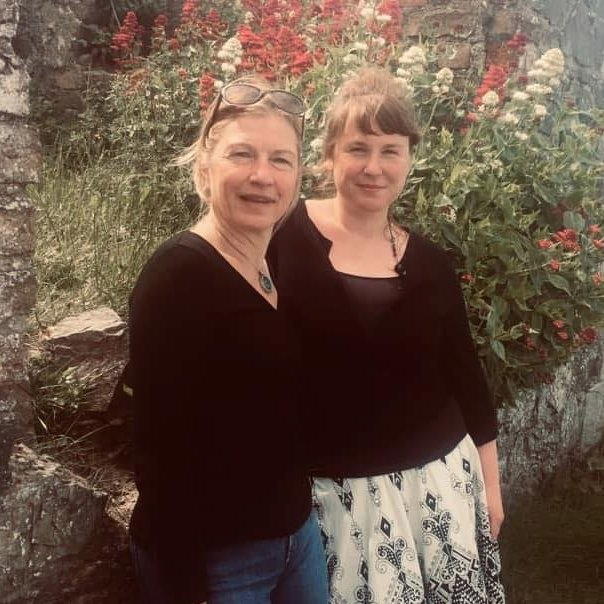 Sesken
Ist die Bezeichnung für eine Reihe von Tänzen in der Dahlhoffschen Tanzmusik-Sammlung. Einige dieser Melodien sind mit irischen Tunes verwandt oder gar identisch.
Hilke Billerbeck aus Hamburg und Clara Doose-Grünefeld (wohnhaft in Dublin) wählten diesen Titel, um so ihre interkulturelle Zusammenarbeit zu bezeichnen.
Lieder und Tanzmusik aus Norddeutschland und Irland werden gekonnt miteinander verknüpft oder nebeneinander in bester traditioneller Weise dargeboten.
Is the name of tune types which can be found in Northern German Dahlhoff dance music collections which date back to the 1700s. Some of these melodies are related and some are even identical to tunes in the Irish tradition.
Hilke Billerbeck from Hamburg and Clara Dose-Grünefeld (living in Dublin) chose this name to acknowledge their intercultural approach and cooperation.
Together, they combine and present the Irish and German musical traditions to highlight the connections and uniqueness of both.
---
Musik und Wort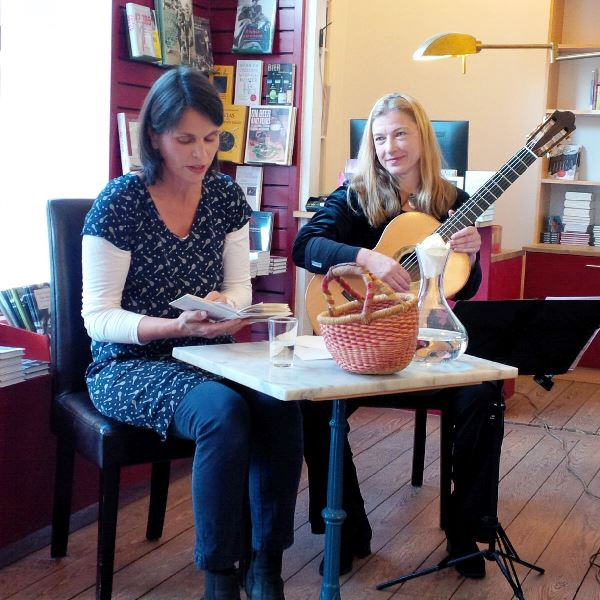 "Alltagslyrik und Feinzeilen"
von und mit Amelie Fechner
Musikalische Begleitung der Lesungen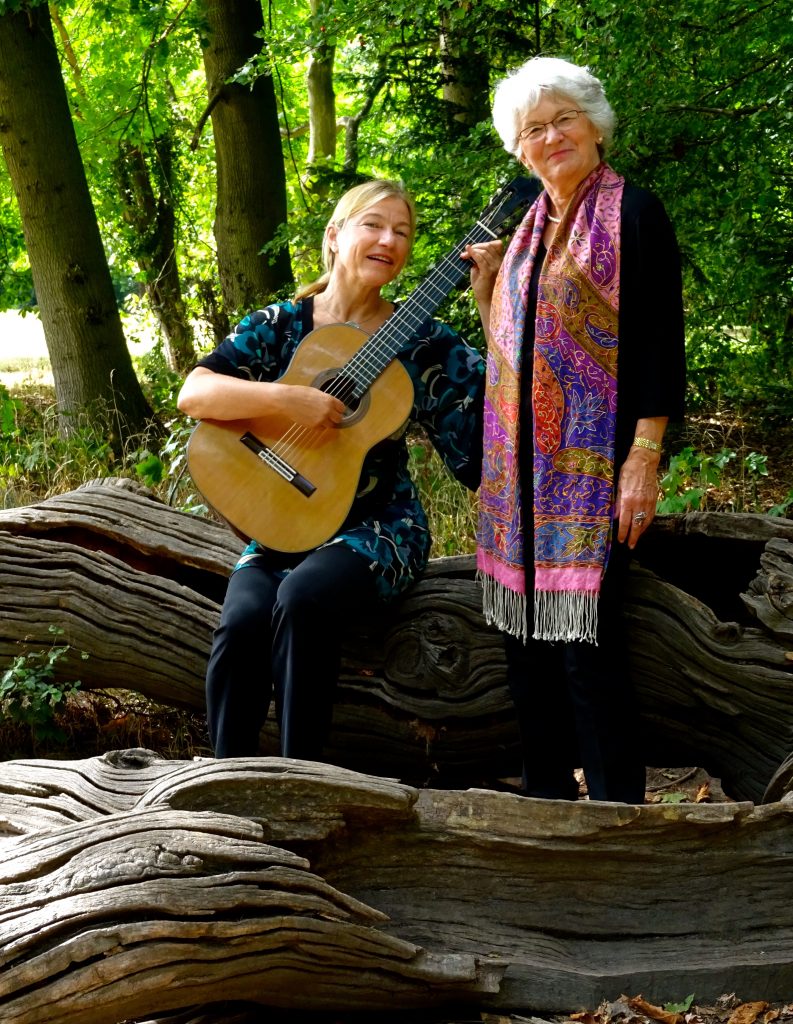 Tanz der Feen
Hilke Billerbeck und Hannelore Zimmerer verführen das Publikum mit keltischen Märchen und Musik zu einer Reise in die »Anderswelt der Feen und Elfen«. Wer schon einmal die irischen, schottischen und bretonischen Landschaften erlebt hat, hat sicher etwas von dem Zauber und der Magie gespürt, die mit dieser »Anderswelt« verbunden sind.
---
…und mehr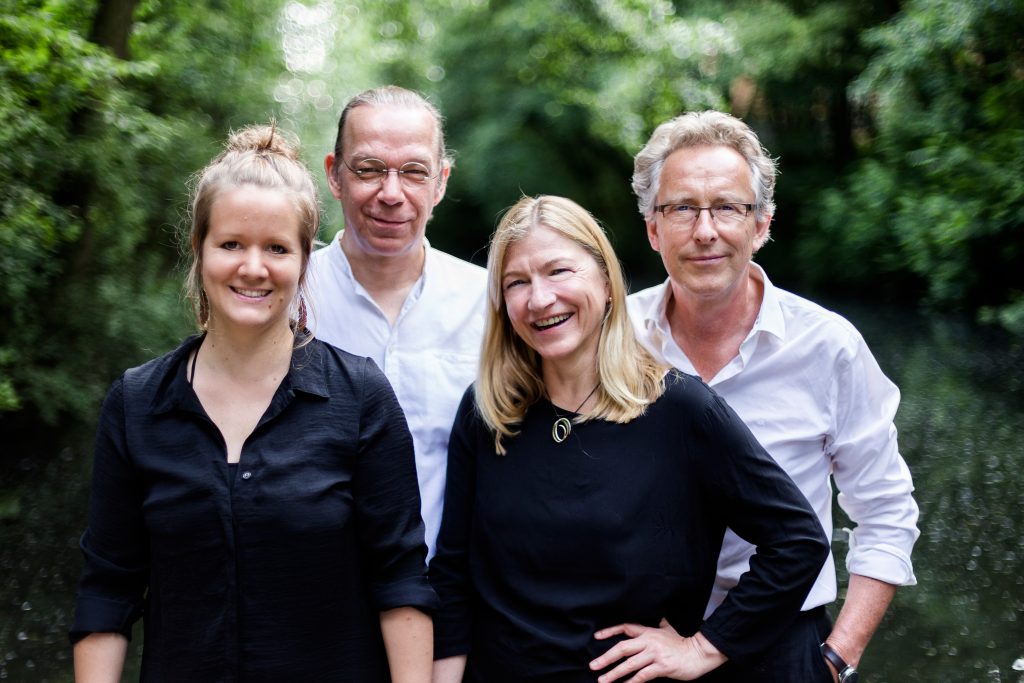 Elbe-Saiten-Quartett
Vier Hamburger Gitarrist*innen spielen seit 2004 komponierte und arrangierte Musik mit frischen Ideen.
www.elbe-saiten-quartett.de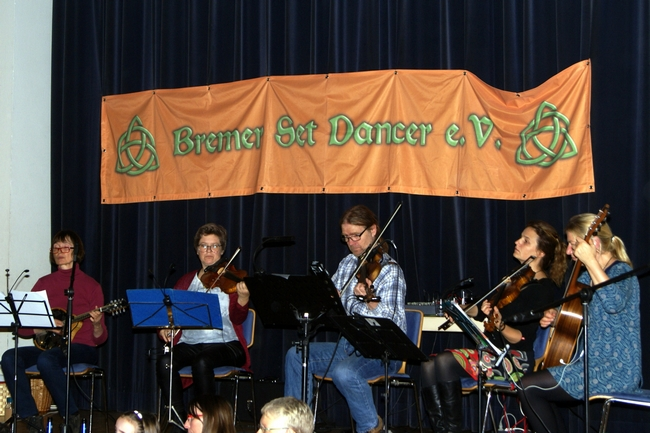 Waterkant Céilí Band
spielt Reels, Jigs, Polkas und Walzer live für irische Céilís und fröhliche Feiern.